At the 73rd International Film Festival also known as Berlinale, Suzume by Makoto Shinkai has become the first anime movie in last 2 decades to have an international premiere.
Ever since its release, Suzume has been making a name worldwide. The anime film directed by Makoto Shinkai was released a few months ago. It has been among the highest grossing films in Japan and recently became the 25th highest grossing film and the 10th highest grossing anime film in Japan.
Also Read

Attack on Titan Final Season Part 3 will premiere in March 2023!!
Makoto is known for his direction of great anime titles. However, the recent feat of having a premiere at the International Film Festival is a feat that even the record breaking blockbusters (such as Demon Slayer, One Piece Red, Jujutsu Kaisen 0 etc.) were not able to achieve. The movie screening will be a part of the competition section. Many congratulations to the director and the production team of the film.
Also, Makoto Shinkai, Nanako Hara and Genki Kawamura will be attending the Berlinale which starts from 16 February 2023. To celebrate the premiere a visual was also released.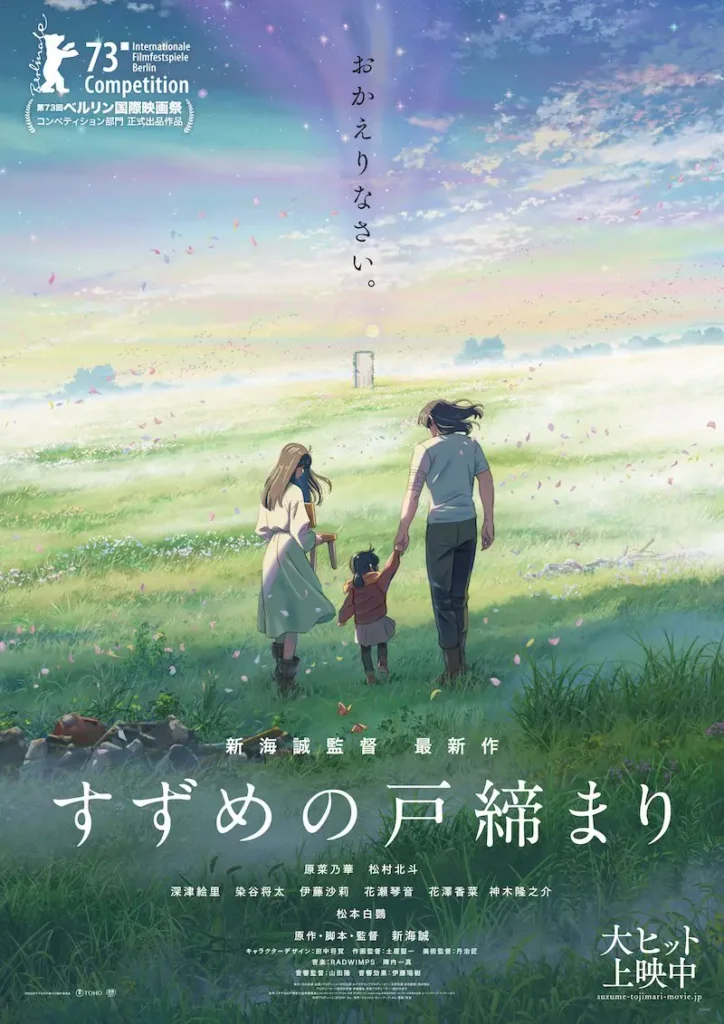 Suzume to get a worldwide release (outside Asia) on April 12
Crunchyroll in collaboration with Sony Entertainment, Eurozoom, and Wild bunch International have announced that Shinkai's Suzume no Tojimari will be getting a release in countries outside of Asia starting 12 April. The release dates for Latin America and EMEA have not been announced yet, the following dates are what's available to us:
April 12: France and Malta
April 13: Australia, Brazil, Germany, New Zealand and Mexico
April 14: Belgium, Ireland, Austria, Luxembourg, Gibraltar, UK, US, and Canada
Those who are living in these countries can mark the date and be ready for the release. Also share in comments if you are looking forward for the premiere.
Also Read

The way of the Househusband is a Slice of life masterpiece!!
Makoto Shinkai's Notable Works
Suzume has been getting a lot of attention due to the blockbuster performance in Japan. But, it is just one of the great films that have been directed by Shinkai. Here's a few of Shinkai's Notable works that you can give a try:-
Your Name
Weathering with you
5 centimeter per second
Garden of Words
Children who chase lost voices
The place promised in our early days
If you have watched any of Shinkai's movies then you can give these a try as well if you haven't already. I can assure you that it will definitely be worth your time. With that said, I conclude the article and will see you all next time.