The Crunchyroll Anime Awards 2023 have finally concluded with an amazing year filled with anime, let's have a look at what went on…
2022 had been a great year for us anime lovers and it is only going to get better. To appreciate the year of anime, Crunchyroll always comes up with anime awards so that the fans can rejoice and choose their favorite anime depending on the award category. This was the 7th edition of the Awards and we now have the results from the voting.
This year had a lot of categories as well with many anime being nominated for their respective award category. If you had also voted and are hoping that your favorite anime also make it to the top then stay tuned as I bring you all the updates related to the award ceremony. Now let's get started with…
Also Read

One Piece Film Red creates a new record as it surpasses Howl's Moving Castle to reach #4 all-time as anime film globally!!
Crunchyroll Anime Awards 2023 And Nominations
Anime Of The Year
This is the most awaited category of them all and these were the nominations:
Attack on Titan final season Part-2 (by MAPPA)
Ranking of Kings 2nd Cour (by WIT STUDIO)
Spy X Family (by WIT STUDIO and CLOVERWORKS)
Cyberpunk Edgerunners (by TRIGGER)
Demon Slayer Entertainment District Arc (by UFOTABLE)
Lycoris Recoil (by A-1 PICTURES)
Winner: CYBERPUNK EDGERUNNERS
Best Original Anime
The anime that were nominated in this category were:
Birdie Wing – Golf Girls' Story
Healer Girl
Lycoris Recoil
The Orbital Children
Vampire in the Garden
Yurei Deco
Winner: LYCORIS RECOIL
Best Character Design
This award was given to the best character designer and the nominations for it were:
Akira Matsushima (Demon Slayer Entertainment District Arc)
Atsuki Nozaki (Ranking of Kings)
Kazuaki Shimada (Spy X Family)
Kazumasa Ishida (My Dress-up Darling)
Masanori Shino (Jojo's Bizzare Adventure Stone Ocean)
Yoh Yoshinari (Cyberpunk: Edgerunners)
Winner: AKIRO MATSUSHIMA
Best Animation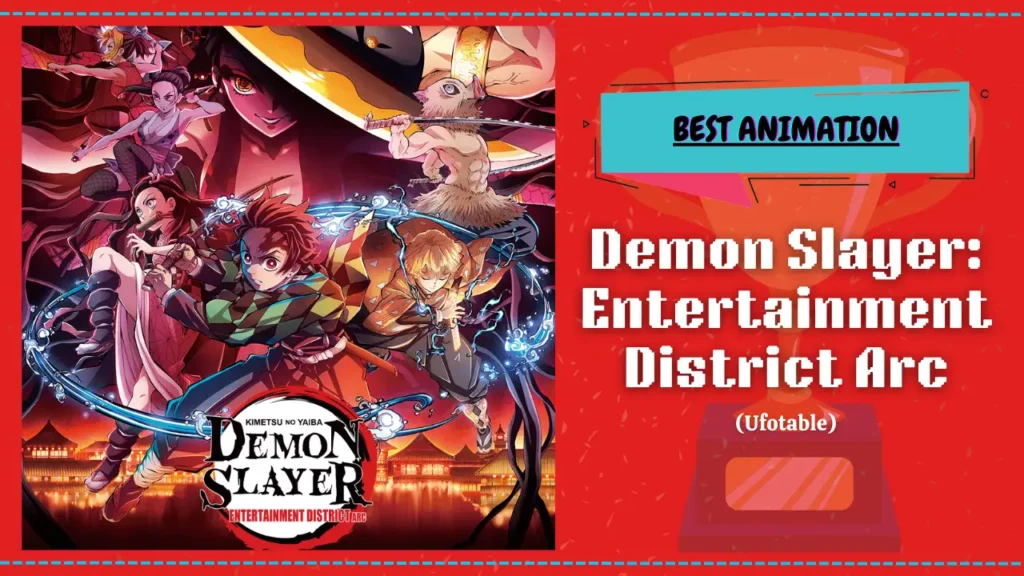 Some of the most visually appealing animations only deserve to win this prize and the anime that were nominated for this were:
Attack on Titan Final Season Part 2
Demon Slayer Entertainment District Arc
Spy X Family
Akebi's Sailor Uniform
Cyberpunk: Edgerunners
Ranking of King 2nd Cour
Winner: DEMON SLAYER ENTERTAINMENT DISTRICT ARC
Best Protagonist
A protagonist is the center of any series and this category celebrates that center with the following nominations:
Chisato Nishikigi (Lycoris Recoil)
Bojji (Ranking of Kings)
Eren Jaeger (Attack on Titan Final Season Part 2)
David Martinez (Cyberpunk: Edgerunners)
Marin Kitagawa (My Dress-up Darling)
Loid Forger (Spy X Family)
Winner: EREN JAEGER
Also Read

The True Meaning of Pokemon Master for Ash Ketchum is…!!
Best Support Character
Without the support, the main story feels incomplete and that is what this category is all about the nominations were:
Ai Hayasaka (Kaguya Sama Love is War – Ultra Romantic)
Kage (Ranking of Kings)
Yor Forger (Spy X Family)
Rebbeca (Cyberpunk: Edgerunners)
Tengen Uzui (Demon Slayer Entertainment District Arc)
Anya Forger (Spy X Family)
Winner:- ANYA FORGER
"Must Protect At All Cost" Character
This is sort of a special award that will be given to the most adorable anime character if I understand it correctly, and the nominations in the category were:
Kotaro Sato (Kotaro Lives Alone)
Kage (Ranking of Kings)
Bojji (Ranking of Kings)
Marin Kitagawa (My Dress-up Darling)
Shoko Komi (Komi can't communicate)
Anya Forger (Spy X Family)
Winner:- ANYA FORGER
Best Anime Opening
Opening Sequences are an integral part of any anime series and the nominations for it were:
Zankyosanka (Demon Slayer Entertainment District Arc)
Naked Hero (Ranking of Kings)
The Rumbling (Attack on Titan Final Season Part 2)
This Fffire (Cyberpunk: Edgerunners)
Chichiki Banban (Yo Boy Kongming)
Mixed Nuts (Spy X Family)
Winner: THE RUMBLING
Best Ending Sequence
These were the nominations for the best anime ending:
Koi no yukue (My Dress-up Darling)
Koshaberibiyori (Komi Can't Communicate)
Akuma no ko (Attack on Titan Final Season Part 2)
Yofukashino Uta (Call of the Night)
My Heart has surrendered (Kaguya Sama Love is War – Ultra Romantic)
Comedy (Spy X Family)
Winner: COMEDY
Best Score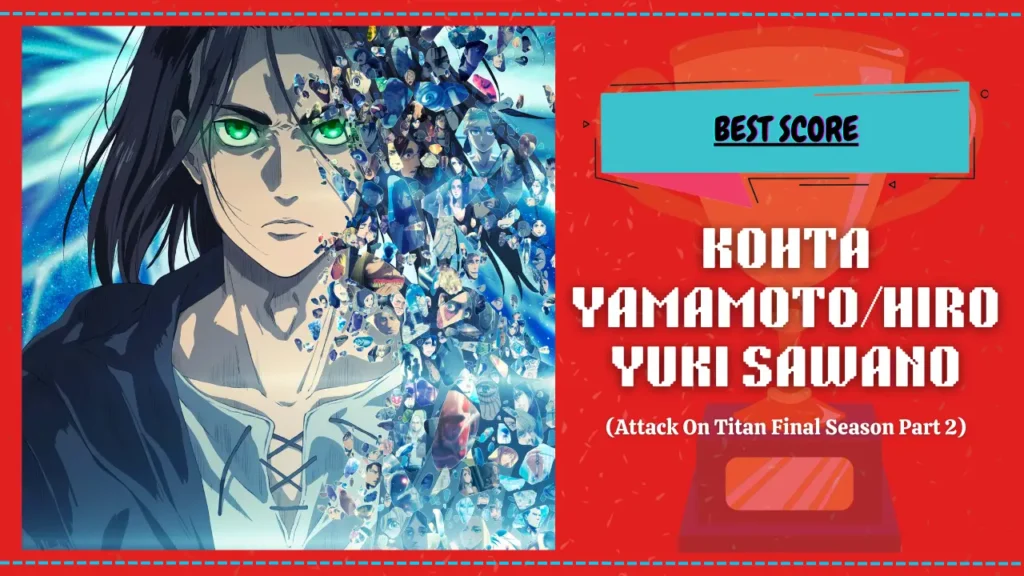 These are the nominations for the best score:
Genki Hikota (Yo Boy Kongming)
Hiroyuki Sawano and Kohta Yamamoto (Attack on Titan Final Season Part 2)
Yuki Kajiura and Go Shiina(Demon Slayer Entertainment district arc)
Akira Yamaoka (Cyberpunk: Edgerunners)
Kevin Penkin (Made in Abyss: The Golden City of the Scorching Sun)
(K)NoW_NAME (Spy X Family)
Winner: HIROYUKI SAWANO AND KOHTA YAMAMOTO
Best Anime Song
These songs were chosen for the nomination of Best Song:
Chikichiki Banban (Yo Boy Kongming)
The Rumbling (Attack on Titan Final Season Part 2)
Shall We Dance? (Shadows House season 2)
New Genesis (One Piece Red)
My Nonfiction (Kaguya Sama Love is War – Ultra Romantic)
Comedy (Spy X Family)
Winner: THE RUMBLING
Best Anime Film
These were the nomination for Best film and there were a couple of names that I had never heard before:
Dragon Ball Super: Superhero
Inu-Oh
One Piece Red
The Deer King
Bubble
Jujutsu Kaisen 0
Winner: JUJUTSU KAISEN 0
Best New Series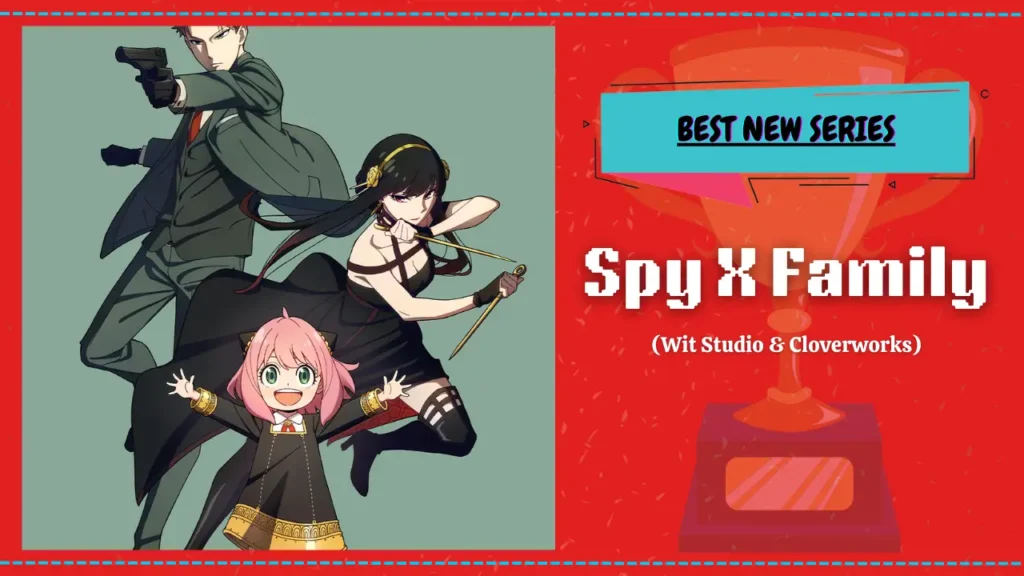 The nominations in this category were:
Lycoris Recoil
Ya Boy Kongming
Call of the Night
Cyberpunk: Edgerunners
My Dress-up Darling
Spy X Family
Winner: SPY X FAMILY
Best Continuing Series
Many big names were in the nomination for this category and they are as follows:
Attack on Titan Final Season Part 2
Demon Slayer Entertainment District Arc
JoJo's Bizarre Adventure Stone Ocean
Kaguya Sama Love is War – Ultra Romantic
One Piece
Made in Abyss: The Golden City of the Scorching Sun
Winner: ONE PIECE
Best Anime (Action)
The nominations for the best action anime were:
Attack on Titan Final Season Part 2
Demon Slayer Entertainment District Arc
JoJo's Bizarre Adventure Stone Ocean
Spy X Family
Lycoris Recoil
Cyberpunk: Edgerunners
Winner: DEMON SLAYER: ENTERTAINMENT DISTRICT ARC
Best Anime (Comedy)
The nominations for the best comedy anime were:
Kotaro Lives Alone
My Dress-Up Darling
Ya Boy Kongming
Kaguya Sama Love is War – Ultra Romantic
Spy X Family
Uncle from Another World
Winner: SPY X FAMILY
Best Anime (Drama)
The nominations for the best drama anime were:
86 Part 2
Attack on Titan Final Season Part 2
Cyberpunk: Edgerunners
Dance Dance Danseur
Kotaro Lives Alone
Made in Abyss: The Golden City of The Scorching Sun
Winner: ATTACK ON TITAN FINAL SEASON PART 2
Best Anime (Fantasy)
The nominations for the best fantasy anime were:
Demon Slayer Entertainment District Arc
Mushoku Tensei Jobless Reincarnation Season 1 Part 2
Cyberpunk: Edgerunners
The Case Study of Vanitas
Overlord 4
Made in Abyss: The Golden City of The Scorching Sun
Winner: DEMON SLAYER ENTERTAINMENT DISTRICT ARC
Best Anime (Romance)
The nominations for the best romantic anime were:
Call of the Night
My Dress-Up Darling
Shikimori's not just a Cutie
Kaguya Sama Love is War – Ultra Romantic
Komi Can't Communicate
Love after World Domination
Winner: KAGUYA SAMA: LOVE IS WAR – ULTRA ROMANTIC