For a long time, Ranking of Kings has been on my anime wishlist. However, I never got the chance to try it until recently when I stumbled across a random suggestion on youtube which had this anime in it. I clicked on the video to know the name of the anime and then I remembered that this is the anime that I wanted to watch as well. So, I closed the video and started watching it.
Now, if I am being honest, then let me say that it got me hooked as soon as I started watching it. The first episode was enough for me to binge the anime in just a day. Before I start the review let me share some basic information related to the anime known as Ranking of Kings.
Ranking of Kings Summary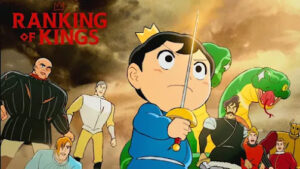 Ranking of Kings
Episodes – 23
Genre – Fantasy, Comedy, Adventure
Ranking of Kings is set up in an ancient fantasy world where the Kings are given ranks based on their strength and the feats they have accomplished. But, the story is about a boy named Bojji who is the son of the strongest king. The irony is that he was born weak with no physical strength and on top of that he could not speak or hear. Though that doesn't stop him from becoming the world's greatest king.
Also Read – Solo Leveling deserved an anime, Here's why!!
Bojji's life was very hard, still, he never gave up and had the courage to move forward despite everything. And one day his life changes as he finally makes a friend named Kage who belonged to the clan of assassins who were wiped out and he was the sole survivor. As Kage stands by Bojji, they go on a journey to make him the strongest king and along their journey, they meet people who help him in his journey to becoming a great king.
Note – The coming section will contain some major spoilers from the anime. So, you can skip that section if you want to avoid it until you watch the anime.
Ranking of Kings Review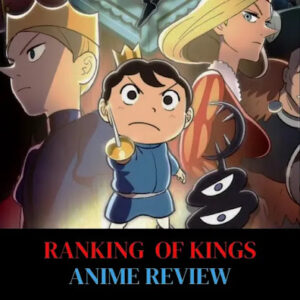 Going by the review this anime might seem like it contains a mainstream plot. But, it is definitely not! The review will be divided into sections so that it is easier to understand the gist of it.
As I mentioned already the name of the MC is Bojji and let me tell you that he is the type of protagonist that we don't see often. He does not have any special powers. The physical strength that he should have had was stolen away from him right from the moment he was born. He could not speak, could not hear and everyone made fun of him for being so weak despite being a prince.
Even though he was living a life of a royal, he was not acknowledged for his efforts at all. Usually, the protagonists in mainstream anime are given powers that they learn to control as they progress, which is completely different from Bojji's as his strength was not hereditary or natural but rather hard-earned. This fact alone sets him apart from many anime MCs.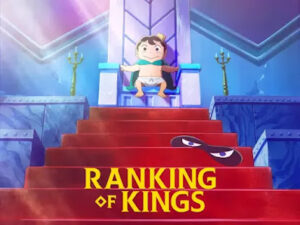 The story is a mix of dark and light elements of the society and the little details that have been shown through the characters can be related to the real world as well. So, I can say that the setting of the fantasy world is not really a fantasy but rather realistic. It was very well written and the progression was also smooth. If we think a little about the events in the anime then everything can be justified and there was nothing I found that needed to be resolved by tweaking the plot. It was absolutely phenomenal and it couldn't have been better.
Also Read – Gohan Beast Form Discussion!!
Bojji is the underdog prince who is deemed unfit to be king and there are moments when even I felt that his sibling, Daide is a much better candidate to be the king. This is why I loved his character as it would not feel like he is much good until we start seeing him progress. The joy of watching him grow was really beautiful and meaningful as well. Let's face it! We love watching underdogs taking unexpected wins.
His character was so good that he was even nominated for the Best Protagonist Awards and won the award for Best Boy in the Crunchyroll Anime Awards 2022.
The bond of friendship between Bojji and Kage was the most beautiful thing I found in the anime. It was really moving and the development throughout was really great. The stark contrast between their social status gave it even more depth. It showed that even though they were surviving well enough on their own, they needed each other to fill the emptiness in their hearts. Kage was able to do that very well and helped Bojji to be a person that is confident in what he is instead of trying to chase and become what he was not. It was all thanks to Kage that Bojji turned out to be a symbol of hope as the anime reaches its end.
Also Read – Soft Anime to cure your Depression!!
There are many characters that are shown to be cruel or barbaric, however, there is no absolute evil in the story even the characters that seem like the final villain type were not. There was a place called Gyakuza, and the people that lived there were the only ones that I didn't like. Though, I won't really call them evil as well. Their nature and behavior had been embedded from a long age of suffering and it is not something that can just vanish and I found it to be a beautiful portrayal of human nature and history.
The characters are all well suited to their personalities and upon watching the whole anime there might not be anyone that would turn out to be a character that we can hate, at least I don't.
Rating – 9/10
Conclusion: Is it worth watching?
It is definitely an anime that is worth the time and worth binging. I would recommend everyone to watch it at least once and I am certain that you won't regret watching it. It was also on the list of nominations for Anime of the year in Crunchyroll Anime Awards 2022. I know that getting an award doesn't make it good or bad, but I believe that it deserved to be and is one of the best Anime that I have watched.
Also Read – Best Manhwas to Read!!